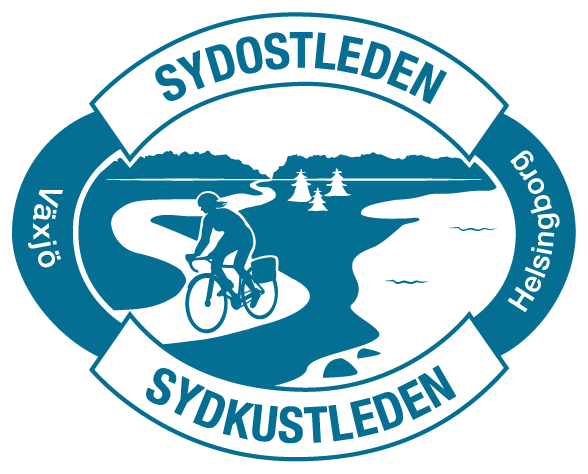 Trail section
5 Sölvesborg - Kristianstad
Length

33.2 km

Elevation

162 m

Degree of difficulty

Easy
Apelöga
In Valje, you'll cross the boundary between Blekinge and Skåne. Right around here is the only archipelago in Skåne, and you can enjoy a swim at Valje and Edenryd.
Skräbeå River is known for its whitefish and sea trout fishing, and from the bridge, you'll see the Nymölla Mill, which dates back to the 15th century.
Enjoy a day trip on the Banvallsleden Trail and bike on the old railway embankment between Sölvesborg and Olofström. You'll be passing Ivösjön Lake where you can stop for a canoe adventure.
The Smugglarrundan (Smugglers' Loop), a local biking trail in Bromölla Municipality, is part of the Sydostleden Trail. If you take the Smugglarrundan to Bromölla, you can visit the fossil exhibit at the Havsdrakarnas House. Also make sure to see the artist-operated Ifö Center cultural centre, which is located in the former ceramics factory in the centre of Bromölla.
Once you get to lovely Kristianstad, you may be surprised to know that parts of the city are located below sea level and that levees and water pumps are used as protection against floods. The foremost attraction of this city is Naturum Vattenriket (kingdom of water), which is built of piles, and has been selected as a UNESCO biosphere area. Here you can search for amphipod crustaceans, watch the fish in the aquarium, try to spot animals or just enjoy the view from the panoramic window.
Along the Sydostleden trail, there are train stations in the following towns:
Stage 1 – Växjö
Stage 3 – Karlshamn
Stage 4 – Karlshamn, Mörrum, Sölvesborg
Stage 5 – Sölvesborg, Bromölla, Fjälkinge, Kristianstad
Stage 6 – Kristianstad
Stage 7 – Simrishamn
30-45 km
Lätt
Tätortsnära
Sjö
Blandtrafik, asfalt
Blandtrafik, grus
Cykelbana, asfalt
Sydostleden
Highlights along the section
Here are some places that are frequently visited and appreciated by others.
Planera din cykling
Här ger vi inspiration och tips på olika rutter och utflyktsmål - så du inte missar något längs vägen.
Show all
News
Here you'll find information about what's new on the route as well as current redirections and disturbances.
Show all
Share your experience
Share your experience by tagging your photos with #sydkustleden or #sydostleden.